HONORABLE CHARACTER™ Classroom Sets for PUBLIC/PRIVATE SCHOOLS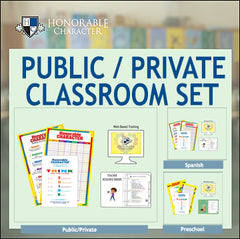 Build the character of your students. Change the climate of your school.
Transform hearts. Honorable Character Classroom Management System
is not a curriculum. It is a simple, affordable tool that supports the character,
academic, social, and emotional development of students.

The Honorable Character good behavior chart is designed to help
teachers recognize positive behavior in students. Students learn the importance
of core character values like responsibility, self-control, diligence, respect,
and cooperation.  
Honorable Character builds a solid foundation for students' character
and academic development and is compatible with the social-emotional
learning (SEL) model, which helps kids develop the social and emotional skills
they need to thrive.
The HONORABLE CHARACTER™ Approach
Through positive recognition, the Honorable Character school behavior
chart helps kids learn to regulate their emotions, make better decisions, and
navigate the learning environment more effectively.
Here's how the system works:
Teachers identify positive behaviors: Teachers look for students exhibiting the
traits highlighted on the Honorable Character Trait Poster, or Chart—like
self-control, diligence, cooperation, obedience, and respect. There are 14 traits
for elementary school kids and 6 for preschoolers. All traits are based on
universally valued moral principles.
Teachers chart the behavior: When a teacher observes a student exhibiting
one of the identified character traits, they (or the student) record the character
exhibited next to the student's name on the Honorable Character
Recording Chart.
Teachers build authentic school-family partnerships: Each week, teachers inform
parents of their child's honorable choices via a simple communication tool.
Honorable Character is a prevention-based system. It uses positive
recognition for the desired good behavior which naturally reduces the need for correction.
If a student behaves unwisely or needs help developing a particular character
trait, the system guides teachers on how they can hold kids accountable.
The Honorable Character system is not an attempt to " parent" kids,
nor is it a substitute for academic subjects. It is simply a tool to help teachers
bring the best out of students in a healthy, constructive way.
Kids who learn how to effectively communicate, collaborate with others, and
manage their emotions tend to be more confident and secure as adults.
The Honorable Character™ system has been credited with changing the
classroom environment and even school culture. Our behavior charts for teachers
are used in thousands of classrooms throughout the U.S.
Learn about how our system works with social-emotional learning. 
What's Included in a Classroom Set
Each Honorable Charactter classroom set includes:
Access to web-based teacher training modules (for 30 days)
HONORABLE CHARACTER™ Trait Poster (17" x 27") lists 14 positive traits, each with a
supporting sentence.
HONORABLE CHARACTER™ Recording Chart (17" x 27") tracks constructive behaviors
while ensuring recognition of all children.
HONORABLE CHARACTER™ THINK poster (13.5" x 19").
HONORABLE CHARACTER™ Teacher Support Binder (1/2"), which includes:


Reproducible Conduct Card (promotes weekly teacher-to-parent connection)
Helpful Hints and Instructions (provides at-a-glance guidelines for teachers)
Record of Conduct Form (streamlines weekly record-keeping)
Reproducible Think Sheet [Elementary] (offers a correction tool example)
Character Reinforcement Form [Preschool] (offers a correction tool example)
Specialty Class Conduct Form (simplifies communication between teachers)
What Does It Look Like? (

Character Trait Examples

)
Sheet of YIELD and STOP cut-out signs (provides a correction reminder tool)
Sample Individual Behavioral Plan (IBP)
Available for Elementary age (English or Spanish) and for Preschool
Link to Web-based Teacher Training Modules
will be sent following purchase.