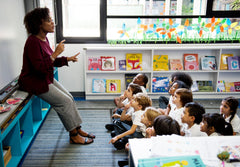 Helping children develop self-control is essential to their growth and development. How can teachers and parents teach self-control for kids and help them reduce impulsive, disruptive, or reckless behavior that can stand in the way of their personal success?
Building and maintaining healthy relationships with children makes it more likely to influence their hearts. With character growth at the heart of motivating your children, teaching specific traits such as self-control helps children become the best version of themselves. For example, teaching self-control in the classroom can help young people resist distractions and learn the value of delayed gratification and the rewards that come with impulse control.
Older kids continue to grow in managing their emotions in the face of conflict or difficult situations. With teaching materials and activities to teach self-discipline, you can help your students learn about the rewards of building self-control.
Strategies and Activities that Grow Self Control
Kids learn about the value of self-control through life experiences and activities. Rather than focusing on times when young children lack self-control, teachers and parents should focus on recognizing desirable behaviors and character traits, acknowledging and affirming positive outcomes when children practice self-control.
In the classroom and at home, parents and educators can use these tools and cultivate positive relationships to foster the development of self-awareness and self-control.
Keep Predictable and Meaningful Rules and Routines
When the environment around us is consistent and reasonable, it is easier to control our emotions and behavior. Children should know the expectations and the reasons for them, rather than finding out by trial and error. Knowing what is expected and what regulation skills are encouraged gives kids a stable structure to develop within.
A routine is also a powerful tool that helps build waiting skills and self-control. Children feel confident when they know what will happen and when, and they can better control their impulses when there is a planned outlet for their energy and quiet time for study or relaxation in their day. Navigating these daily transitions strengthens their ability to calm themselves intentionally.
Model Positive Traits and Use Positive Reinforcement
Young people are watching and learning from adult role models every day. As you focus on intentionally teaching self-control, make note of your own challenges and model the behaviors you are encouraging. Practicing deep breathing while showing restraint and compassion in difficult situations actively demonstrates the value of these positive character traits.
Positive affirmation and recognition rewards children who are practicing self-control and reaching new milestones in their social-emotional development. Authentic words of encouragement highlighting a specific trait coupled with sticker or dry erase charts to show these achievements are highly motivating to kids, and their visual nature helps children recognize their own progress. Through intentional positive recognition, our kids become more confident in their ability to control their own emotions and behaviors.
Use Social-Emotional Games and Programs
Using games to prepare children for real-life situations they will encounter that require self-control teaches vital skills while taking a fun approach to challenges. There are games and tools, designed for young children who are learning to manage physical impulses and improve their executive functioning, and activities for older kids to practice long-term delayed gratification and learn to support team members for group success and reward.
Using social-emotional learning (SEL) programs actively promotes a child's problem-solving and relationship skills by helping them recognize and understand their emotions and develop empathy for others. Children who are frequently "corrected" for disruptive behaviors often feel isolated and unsure. Positive programs teach children by recognizing and encouraging improvement, and these can turn around negative cycles in the classroom or at home.
Use Tangible Reward Systems and Tools
Behavior charts that track a child's positive behaviors, character traits, or goals are a simple and highly effective way to encourage and recognize daily progress and long-term goals. In order to get the sticker, star, or another recognition, each student will need to practice self-control. Whether it's waiting quietly for recess or showing cooperation with others, specific character traits, behaviors, or goals can be encouraged with these tangible tools.
One of the best things a child can do to manage the behaviors they are trying to change is to recognize when they are stressed or anxious and need to self-calm. Parents and teachers can set up a quiet place where kids can voluntarily retreat or provide a calm-down box full of fidget toys, squeeze balls, or other preferable ways to deal with a situation where they find it difficult to control their actions or words.
Educational Programs that Build Positive Character Traits
There are some character traits that are universally valued and which set children up for future success in relationships, careers, and higher education. The Honorable Character System has been used by teachers for more than 30 years to promote 14 of these honorable characteristics (six for preschoolers), including things like responsibility, cooperation, and compassion.
By watching for, recognizing, and recording good character choices on a classroom chart, teachers encourage students' honorable character and reinforce a habit formation and a change of heart toward self-control, respect, kindness, diligence, etc. Helping students to be aware of their choices and providing restorative opportunities for teachers, the Honorable Character System motivates young people to develop social-emotional skills that promote their personal growth and stronger, more positive interpersonal relationships with teachers, parents, and peers.
Every person needs to learn self-control and how to moderate their behavior in order to contribute to their community and develop into their best selves. Children deserve the opportunity to learn these essential skills in a positive and empowering way. To learn more about the Honorable Character program for homeschool, a single classroom, or an entire school system, contact us or download a sample pack of our tools and resources for parents, teachers, and administrators.